Grand National XXXVI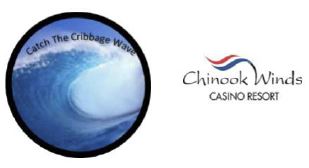 The American Cribbage Congress Grand National XXXVI - September 8 - 10, 2017 - Lincoln City, OR - Chinook Winds Hotel.
For updates, see the Grand National Facebook page.
Come to the beautiful Oregon coast and "Catch the Cribbage Wave". You can begin your fun in North Bend, OR at The Mill Hotel & Casino September 1st-3rd 2017. Take a 120 mile drive up the Oregon coast and see some of the most beautiful sites and you will be in Lincoln City.
There will be a Mid-Week tournament on September 5th-7th with our Grand National beginning on Friday, September 8th. We will have many satellite tournaments, the ACC Board Meeting, a Youth Grand National, the Grass Roots TOC, and the Awards Banquet along with many amazing places to see and visit in the immediate area.
Chinook Winds Hotel is a beach front hotel with 243 rooms including Oceanfront rooms, Suites with a fireplace, indoor heated pool, sauna, spa, guest laundry, full service restaurant, and lounge. Chinook Winds Casino Resort also offers an 18-hole golf course, fitness center, five restaurants, headline entertainment/comedy and play palace/arcade/child care facility. Lincoln City not only has seven miles of walkable sandy beaches along the magnificent Pacific Ocean, they are also home to evergreen forests, clean air, and a large freshwater lake.
Getting to Lincoln City is easy! Just two hours from Portland and one hour west of Salem, take a scenic drive through the beautiful Coastal Mountain Range. If you're already on the coast, they are right on Highway 101.
We hope you plan to attend an outstanding Grand National in 2017.

Other Tournaments:
Donna's Game
North Bend, OR - September 1 - 3, 2017
Donna's Game 2
North Bend, OR - September 4 - 5, 2017
Grand National XXXVI Mid-Week
Lincoln City, OR - September 6 - 7, 2017

Grand National Tournament Directors:
Rick & Peggy Shea - Roy & Jeanne Hofbauer
Tom Langford & Duane Toll - Mid-Week Grand National