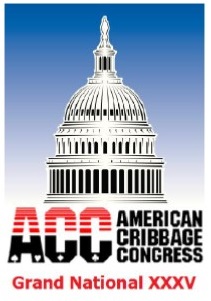 The American Cribbage Congress Grand National XXXV was held October 7 - 9, 2016 in North Bethesda, MD at the North Marriott Hotel. A big congrats to all the winners! Including Life Master, Fred White of Gloucester, MA/Kailua, HI, winner of the GNXXXV Main event and Master David Sniegowski of Suffolk, VA, winner of the GNXXXV Consolation.
September 2016 Board Meeting Agenda
Cribbage in the news!
Do you love playing cards? Meeting new people? Having a great time with friends? If so, then the ACC is the place for you! Compete in Cribbage Tournaments all over North America or join a Local Club for a friendly game during the week.
Intrigued? Explore the pages of the ACC Website or Contact Us to find out more.